Save the Date: Marriage Enrichment Conference
THE MARRIAGE JOURNEY – the Diocese of Covington invites all couples to attend a marriage enrichment experience on Saturday, September 21, 2019, St. Barbara Church, Erlanger, 8:00 a.m.-3:00 p.m.  The cost is $25 per couple, which includes a light breakfast, lunch and refreshments. Additional information will be posted when it becomes available.
To register online click on this link:
Click here to download a registration form to complete and return to our office.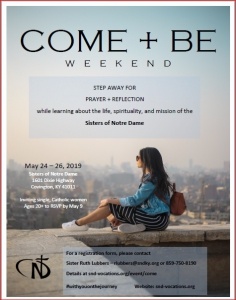 Come + Be weekend – Step away for prayer and reflection while learning about the life, spirituality, and mission of the Sisters of Notre Dame
To register email: [email protected] or call: 859-750-8190
The Department of Catechesis and Faith Formation is sponsoring workshops on books of the Bible, presented by Father Timothy P. Schehr.
Father Schehr is a Biblical Professor at the Athenaeum of Ohio (Mt. St. Mary Seminary) of the West. He has a B.A., M. Div.,  and an M.A. from the Athenaeum of Ohio. He also has a Ph.D. from Hebrew Union College.
This course study will provide adult learners in the diocese with a more in-depth understanding of specific books of the Bible. This is a wonderful opportunity to learn, know and understand more about the Catholic  Bible.
Sessions are  Tuesday evenings at 7:00 p.m. Each workshop will take three days and will cover one book of the Bible.
The cost to participate in each book of the Bible workshop is $35.00. Click here to register online, or contact  Marian West at, 859-392-1500 x1533, [email protected]
Click here to add your own text